Morning Desert Safari Dubai: An exciting experience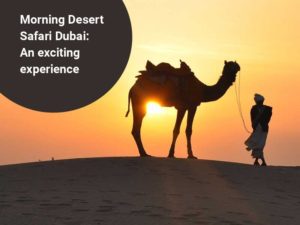 For those who love to enjoy the cool breeze in the morning and soak up the morning sun, while the sun rays hit the desert making it reveal its magnificent golden glow, the morning desert safari tour is an exemplary expedition for you. As you begin your journey into the vast and glorious desert of Dubai, the refreshing morning breeze greets you as the city fades away into a far off view. Witnessing the desert in the morning is a whole new elevated and satisfying experience over all. This morning desert safari package is ideal for those who are busy with work during the day and want a laid back morning away from the hustle and bustle of Dubai's city life
An Overview of Our Sunrise Desert Safari Tours
The morning desert safari tour will start with our staff picking you up from your doorstep be it anywhere in Dubai. This will mark the beginning of your journey into the beautiful red dune desert of Dubai commonly known as AL-HEBAB. Using the most comfortable an luxurious 4×4 SUVs driven by extremely experienced, licensed and certified drivers to assure a comfortable and safe journey. You will be picked at 7:30 in the morning and take you on an outstanding journey showcasing the simple desert lifestyle which has been a part of Dubai's culture for decades.
Read More – Why are Dubai Safari Trips So Popular?
After picking you up from the location you want us to, we will take you on a thrilling and adventurous sand dune drive on the most mesmerizing red dunes in Dubai. The ride up and down in the sand provides with an unmatched experience to the tourists while increasing their appetite as they get near to the campsite. Our luxurious and fully furnished are a perfect place to sit back and relax after bumpy dune ride, you will be getting endless amount of drinks to keep you refreshed and hydrated.
On reaching the campsite, we will provide you with quad bikes for buggy ride, they have been specially designed keeping in mind your safety. Our highly experienced guides will give you instructions to safely ride the quad bikes and have an experience of a lifetime. Quad bike ride is not for the one with a weak heart, it will give you the most extreme adrenaline rush ever. However, you can choose sand boarding too, to make the trip even more thrilling and adventurous. People who prefer a calm morning while getting lost in the beauty of the magnificent golden desert can enjoy an hour long camel ride while sipping onto a refreshing drink to beat the heat.
Read More – Highlights of Desert Safari Tours in Dubai
Professional photographers will be at your service too so that you can cherish the memorable moments for the rest of your life.
You can also customize your Dubai Desert Safari trip by requesting and additional arrangement that is to be made, to make your trip even more enjoyable. The trip ends in the afternoon, by 12pm-1:30pm, after which you will be dropped off to your desired locations within Dubai, in the comfortable SUVs.
Related Posts