Thrill, Fun or Romance – Maldives Has It All!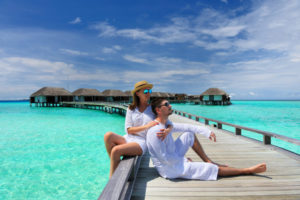 Nestled in the Indian Ocean and located to the southwest of India and Sri Lanka, the picturesque island country of Maldives, with its twenty-six natural atolls, is the lowest geographical region in the world with its highest natural point being the lowest one in the world at a modest height of 2.4 metres from the sea level. Home to approximately 393,500 inhabitants, the Maldives comprises of 1,192 gorgeous coral islands of which only 200 are occupied by the natives currently. Consequently, a significant portion of this surreal destination remains secluded and untainted much to the delight of the privacy-seeking honeymooners and tourists who visit Maldives for a relaxing vacation. If you and your partner are desirous of some much-needed peace and solitude after all the action and frenzy that formed an integral part of your wedding preparations, then the pristine shores of Maldives are where you should head off to for a calm and peaceful honeymoon. Bewitching Maldives scores high on the travel bucket-list of many prospective honeymooners who salivate at the idea of welcoming this new phase of their lives by luxuriating in the lap of this picture-perfect South Asian country.
Despite its recognition as the world's smallest Asian country with an area of approximately 298 square kilometres, postcard pretty Maldives has so much to offer to the newly-weds in terms of scenic and romantic locales, thrilling adventure spots and fun-filled opportunities that it can be easily deemed as one of the world's most ideal destinations that provide the perfect backdrop to the love birds for experiencing a romantic and a blissful honeymoon – a fact that was ascertained when it was declared as 'the world's most desired honeymoon destination' in a survey conducted by Agoda.com. Maldives does not require its visitors to apply for a visa prior to their travel as long they have a valid passport, proof of onward travel and adequate cash to fend for themselves comfortably during their stay in the country thus giving you all the more reasons to packs your bags immediately and to choose dreamy Maldives as your coveted honeymoon destination. So, why delay? Explore economical deals online and book your Maldives honeymoon package today for an unforgettable time-off. With plenty of offers and discounts available on the web, you can easily avail yourself of affordable and all-inclusive honeymoon packages to Maldives and enjoy a stress-free holiday that does a world of good to you and your beloved.  Get picturesque captures of this incredibly beautiful destination for a lifelong nostalgia! Here's a quick guide to the wondrous activities that will keep you and your better half entertained throughout your stay in Maldives. After all, who said that striking Maldives is just about sight-seeing and relaxation? Not we!
Experience A Burst of Adrenaline Rush with Exciting Water Sports
If you and your darling are in the mood for some action, albeit in a fun way, then a Maldives honeymoon package is non-negotiable for you. Maldives is inundated with a plethora of premier scuba diving spots that are rated as one of the finest in the world. The warm waters of the Maldives are perfect for an enriching underwater exploration that allows the two of you to get up close and personal with an array of stingrays, manta rays, eagle rays, whale sharks, sea turtles, sea horses, moray eels, lobsters etc. Relish the rich marine life in its full splendour as you make your way through the clean and crystal-clear waters that promise you an incredible visibility. Most of the uninhabited islands in Maldives are dotted with tourist resorts and quite a few of them house their very own scuba diving facility to ensure a gala time for their occupants. You can also find out if your holiday resort offers you the option to dive at the various dive sites of Maldives in the form of a scuba diving cruise holiday atop a liveaboard– a characteristic facet of the resorts here.
Depending upon your diving expertise and your aptitude for an in-depth exploration of Maldives' sea life, you and your beloved can choose to dive in a thila, kandu or a lagoon. While the underwater island of a thila, especially the one that is cocooned within a kandu, boasts the strongest current, it is also the most interesting diving spot that will spellbind you with its vivid marine life. Lagoons are less adventurous as they are not very deep. They are best suited for conducting scuba diving courses even though they are quite low-key when it comes to their sea life. Ari Atoll, South Male Atoll, North Male Atoll and Addu Atoll are few of the most popular haunts in Maldives that are known for their superlative diving experiences. Apart from scuba diving, the tropical monsoon climate of Maldives is also conducive for participating in a host of water activities such as swimming, snorkelling, windsurfing, kite boarding, fishing and stand up paddle boarding. With such an underwater extravagance to exploit and so many amazing water sports to seek pleasure in, it's not surprising that Maldives features amongst the world's best recreational diving destinations. Rest assured, this will be one memorable honeymoon that will be etched in your minds.
Make Yourself Available for A Pictorial Tour of The Maldives
Apart from its white sand beaches, jaw-dropping coral reefs and calm shallow waters, the photogenic destination of Maldives abounds with celebrated tourist spots that make it apt for island hopping. If you have quenched your thirst for adventure to the fullest and wish to indulge in some sight-seeing, then tag your significant other to the locally populated islands of Maldives where you have ample to observe and revel in.
For a fulfilling sight-seeing experience, do ensure that the capital city of Male features in your travel itinerary once you confirm your Maldives honeymoon package online. The most populous city in the Republic of Maldives is home to the famous National Museum that flaunts an exhaustive collection of historic artefacts that depict the ancient past of the isolated island country. Located in the Sultan Park in Male, the antique three-storied museum was gifted to the Maldives by the Chinese government in 2010 and has a rich and a quirky repository of stone objects, weaponry, religious belongings, lacquer-work boxes, country's first gramophone and telephone, ceremonial dresses, ornaments and other fragments of royal paraphernalia ranging from the Buddhist era to the Islamic period. Up next is the National Art Gallery that is a treasure trove of Maldivian art and glorifies the dexterous art work of both the Maldivian and the international artists in the form of promotional events, displays and exhibitions. Utheemu Ganduvaru, Grand Friday Mosque & Islamic Centre, Tomb of Mohammed Thakurufaanu, Sultan's Park, Muleeaage & Medhu Ziyaarath and Hukuru Miskiiy are other well-known tourist attractions that draw visitors in large numbers owing to their historical, cultural and religious significance. A trip to Male's legendary Fish Market is also a must-visit and will leave you dumbstruck with its bustling vibe that is at its hilt in the afternoon when fishermen from all over the country throng the market for a zealous unloading of the day's catch. Take a look at the vast spread of dried fish and fresh fruits and vegetables that are on display here. Tuna, octopus and groupers are a common sight and quite popular with the locals. Make sure you discern your choices fast as the locals are known to bag the fish in a jiffy as soon as the catch is laid out on the floor!
Experience Luxurious Massages and Delectable Cuisines
Okay, so we saved the best for the last! No matter how much you enjoy in the umpteen sight-seeing and adventure opportunities that are present in abundance in Maldives, the fact remains that no visit to this exotic locale is accomplished in the truest sense unless you unearth the distinctive facet of Maldives that it is best known for – an amorous escapade that lets you enjoy life at your own pace as you and your partner laze your time away sipping delectable champagnes and cocktails and basking in the sun while feasting your eyes upon the mesmerizing views of the gleaming turquoise waters. Treat yourselves to a relaxing and soothing Balinese massage and feel refreshed and recharged! Enjoy a romantic sunset pier dinner that acts as the perfect setting for sweet nothings at the renowned Ithaa Undersea Restaurant – famed as the world's first all-glass aquarium-style underwater restaurant, located 5 metres beneath the ocean level. Indeed, when you envision an extraordinary honeymoon destination that packs fun, thrill and romance in equal measures, a Maldives honeymoon package is what comes to your mind instantly. Settle for a honeymoon package to Maldives today to experience the timeless charm of the remote islands that start weaving magic on your soul and mind the moment you step foot on their sacred shores!
Related Posts